6 Creative Ways to Propose to Your Partner
When it comes to relationships, the more creative you can be, the better. In the past, many people would go for a traditional proposal with a ring and a marriage proposal at the end of an elaborate dinner. But nowadays, couples are getting creative with their engagements and proposing in unexpected ways. From treasure hunts to sports games like football games to even cooking dates, there are now so many new ways to propose or just tell your partner that you love them. Here are six creative ways to propose to your partner:
Treasure Hunt
A creative proposal doesn't have to be expensive or elaborate. You could create a treasure map and hide it anywhere in the city or even your house. When you find the clues, there will be a drawing of an engagement ring on the last clue. You could also create a puzzle with letters that spells out "Will you marry me?" When put together, the letters form an engagement ring.
Another alternative could be a plan where you start the treasure hunt by hiding a key somewhere in the house and including a clue that will lead them to the next clue. The last clue should lead to the ring. If you're worried about getting stuck at home, try putting clues outside as well. This is a great way to create an interactive experience with your partner and get them out of their normal routine for a while.
Hiking and Camping
Hiking and camping are great ways to spend quality time and be away from the hustle and bustle of everyday life. It can also be a really romantic idea to spend the night under the stars together. To make your proposal more creative, pack your own snacks and food for the trip. You could then pop open some champagne at a scenic point for him or her to enjoy with you. This will add to the experience and be something that he/she will remember forever.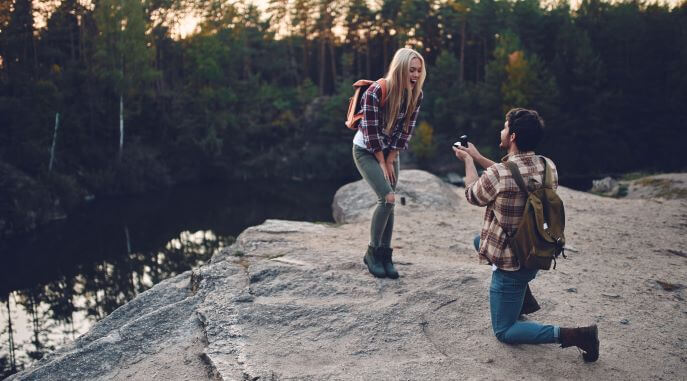 Cooking Date
If you want to give your partner a romantic proposal, but you don't have money for anything extravagant, try a cooking date. Make it interesting by challenging yourselves to cook something new or by trying to make a dish from your partner's home country or that they miss from their childhood. If you're really feeling adventurous, get on the phone and call up a few of your friends to come over and eat with you.
Boating Trip
If you have a boat and want to propose, you can do it while with your partner. It's not that hard to plan this as long as you know what time of day the sun will be setting and when you want your proposal to happen. If it's around sunset, then wait until about thirty minutes before sunset for a perfect proposal. When your partner is not looking, get her attention by whistling, pointing out a floating log or tree branch then get down on one knee and propose.
Sports Games
If your partner is a sports fanatic, a football game is a perfect place to propose. If you go to a game that they're really into, they'll be in their own world and not expecting anything. You just need to put in some effort and find the right time and place to do it.
You might want to ask the person who runs the scoreboard if you can propose on the board during half-time and then when they least expect it, the scoreboard will light up with their name and say "Will You Marry Me?" or something of that nature. Then all you'll have to do is get on one knee and pop the question as they turn round with a shocked look on their face.
Special Occasion (Valentine's Day, etc.)
One way to propose is on a special occasion like Valentine's Day, Christmas, or New Year's Eve. For example, on Valentine's Day, instead of giving your partner a card with a proposal in it, you could give them a nice shiny ring. On Christmas Day morning, you could put the wrapped up ring under the tree and record their reaction when they unwrap their little gift. Even on New Year's Eve, you could propose after midnight when couples are typically exchanging their new year's resolutions. You can ask your partner if they want to make one together and then propose after they say yes.